We offer different styles and types of materials in restroom partitions, as well as washroom accessories.
Are you remodeling your facility's restrooms and looking for a reliable local supplier of restroom partitions? Do your current restroom partitions need to be replaced?
At Coastal Contract Hardware, we have been working with business owners in Myrtle Beach, South Carolina for years by offering the best selection of restroom partitions to choose from. We've partnered with some of the largest manufacturers in the industry, including, Atlanta Sunbelt, Bradley, Bobrick, General Partitions and Comtec to offer restroom partitions that match virtually any space and requirement.
Providing door hardware, frames, and security services for nearly 20 years
Restroom Partitions
We offer four different styles and nine different types of materials in restroom partitions to fit the needs of any facility. Styles range from overhead-braced to floor-braced partitions, as well as ceiling-hung and floor-to-ceiling partitions for maximum restroom privacy. Partition materials available include popular solid plastic, solid phenolic, and plastic laminate.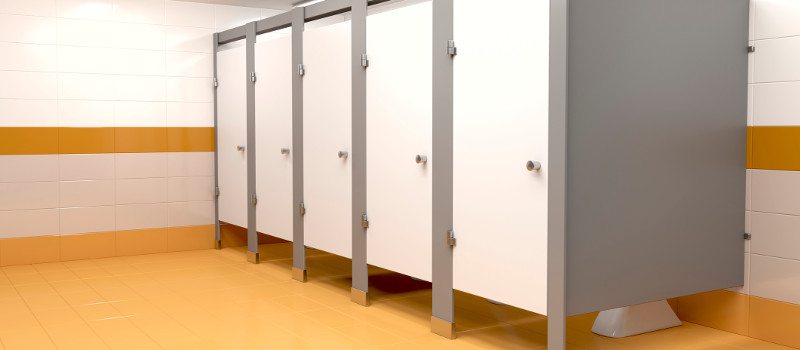 The style of restroom partition you choose depends on several factors.
High-traffic venues and those prone to vandalism should consider overhead-braced partitions. This type of partition doesn't require any special floor or ceiling construction and can be applied easily in any new or old building.
If your building has high ceilings, you should consider floor-braced partitions. This style complements the building structure by enhancing the effect of spaciousness.
If dealing with low ceilings, ceiling-hung partitions are ideal because they allow for fast and easy maintenance, since the area is free from any obstruction. Ceiling-hung partitions are not recommended for ceiling heights over 8 feet.
If privacy is a big concern at your business facility, you should consider floor-to-ceiling partitions.
We offer in-house or field measurements.
Bathroom Accessories
Bathroom accessories for commercial buildings can be an important part of complementing a remodeling job or new construction. You'll find a complete line of products with us at Coastal Contract Hardware, including paper towel dispensers, grab bars, toilet paper holders, sanitary napkin disposals, soap dispensers and baby changing stations. We are specialists when it comes to providing the solutions needed to help you maintain an environmentally friendly, clean, and safe restroom facility.
Our specialists at Coastal Contract Hardware will be happy to assist you with your selection of styles and materials. Give us a call today or stop by our showroom to get started. We offer in-house or field measurments.
---
At Coastal Contract Hardware, we offer restroom partitions to businesses in Myrtle Beach, Surfside Beach, Garden City, North Myrtle Beach, Carolina Forest, Little River, Conway, Murrells Inlet, Pawleys Island, and Horry County, South Carolina.
Similar Services We Offer: