If you run a business, you have many things that you need to keep track of, such as inventory, promotional efforts, and operating costs. On top of that, you will need to make sure your facility is compliant with ADA accessibility regulations, and a big part of that is making sure your parking lot has appropriate handicap parking.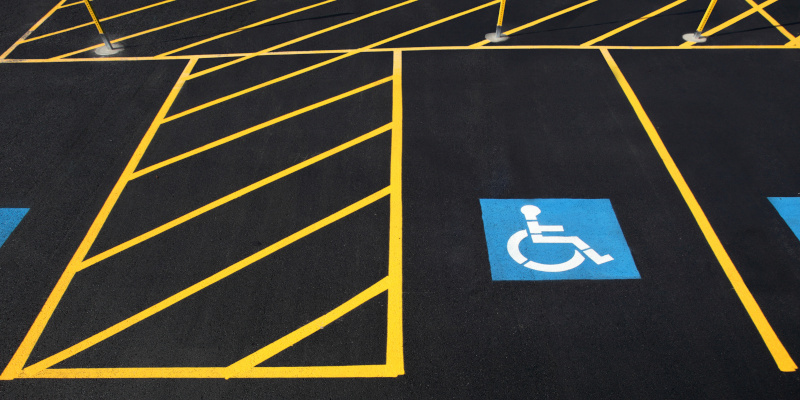 In this article, our team at Coastal Contract Hardware will provide a brief overview of some of the most important regulations about handicap parking so that you can make sure disabled individuals will be able to access your business.
Number of Handicap Parking Spots- The first ADA regulation you will need to worry about when it comes to handicap parking is the rule that dictates how many parking spots should be handicap accessible. If your parking lot has 1-25 spots total, then one of those spots needs to be accessible; if it has 26-50 spots, two; if 51-75, three, and so on. For larger parking facilities with over 500 total spaces, 2% of the total spaces need to be handicap accessible.
Location of Handicap Parking- The parking spaces that you designate as handicap accessible should be located as close to the entrance of your facility as possible. In addition, it's important to place ramps close to the accessible parking area to ensure that users of wheelchairs and other mobility aids have the shortest possible distance to travel in order to get onto the sidewalk or reach the door of the building.
Size and Spacing of Handicap Parking – A third key thing to know is that handicap parking spaces should be at least 8 feet wide, and they should run the full length of a standard parking spot. There should also be a 5-foot aisle adjacent to each space that leads to a ramp or other entryway. In addition, you will need to make a certain number of your parking spaces van-accessible as well—you can find a detailed breakdown of those rules here. The standard rule for van spaces is that they need to be 11 feet wide, or 8 feet wide if they are adjacent to an 8-foot aisle.