Whether you are an architect, contractor or end-user who wants to secure your business in Myrtle Beach, our selection of doors and frames won't disappoint.
At Coastal Contract Carolina, we believe that the quality of your doors and frames is directly related to the security of your business. Whether you are an architect or contractor looking for the ideal doors and frames for new construction, or if you are an end-user that wants to secure your business in Myrtle Beach, South Carolina, our selection of doors and frames are sure to meet your needs.
Providing door hardware, frames, and security services for nearly 20 years
Entry Doors – We offer an array of popular fiberglass, wood, and metal entry doors that are durable and functional. You can choose entry doors that come in a variety of fire ratings to suit your application, and you will find our professionals prepared to make expert recommendations based on your requirement for doors and frames.
Door Frames – The strength of a door frame is often the most important factor when it comes to protecting your commercial building or business at a point of entry. We offer metal door frames, including fiberglass frames, that will provide long-lasting protection for your commercial location.
Why is the Right Doorframe So Important?
No matter the space you are outfitting with a new door, having a great doorframe is an essential part of the equation. Not only does the frame provide structural support for the wall and door, but the doorframe also reinforces the security of the room overall.
In a commercial setting, you'll want to make sure to ask your door professionals about the type of doorframe that will be the best fit for your application. For example, if you are applying a new entry door to your business, you may want a doorframe that has reinforced steel and is fire resistant to ensure maximum protection. Alternatively, if you are adding a new door to an interior room, you may want a structurally sound frame that is lightweight but also provides greater support for the door and wall.
A poorly constructed doorframe not only puts your entryway at risk, but may also be susceptible to damage caused by water or fire. Knowing that your business is protected with reinforced doorframes will only give you greater peace of mind when it comes to security and protection of your entryways.
If you are already living or working in an established business, but still plan to replace the doors, have your door professionals assess the doorframes and provide recommendations if the existing frames don't meet the necessary code or structural requirements. You'll be glad that you took a comprehensive approach to your new entryway installation.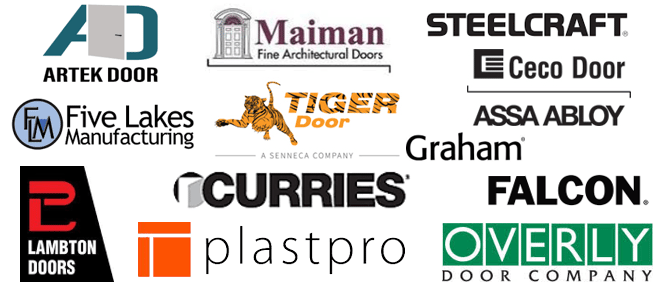 At Coastal Contract Hardware, we are a full-line leading distributor of all Division 8 & 10 products. Our experienced staff is comprised of architectural hardware consultants, certified door consultants, certified electronic and access control consultants, and licensed contractors who are committed to providing exceptional service. Contact us today or stop by our showroom to select from our reliable doors and frames.
---
At Coastal Contract Hardware, we offer doors and frames to businesses in Myrtle Beach, Surfside Beach, Garden City, North Myrtle Beach, Carolina Forest, Little River, Conway, Murrells Inlet, Pawleys Island, and Horry County, South Carolina.
Similar Services We Offer: