Our door closets are a great way to keep your workspaces safe and quiet.
If you have been to a school, office building, museum, concert hall, doctor's office, department store, or the DMV, chances are that you've seen a door closer. While you may not know this device by name, you probably recognize it by sight: it's the narrow metal box and armature that's mounted to the top of the door frame. As their name suggests, door closers are designed to automatically close doors after they have been opened. Door closers are mandatory on all fire doors, as leaving a door open allows the fire to spread but can also be used on any door that the designers want to remain shut, such as a classroom that needs to block out outside noise. At Coastal Contract Hardware, we offer a variety of door closers so that you can protect your business from noise, fire, or other hazards.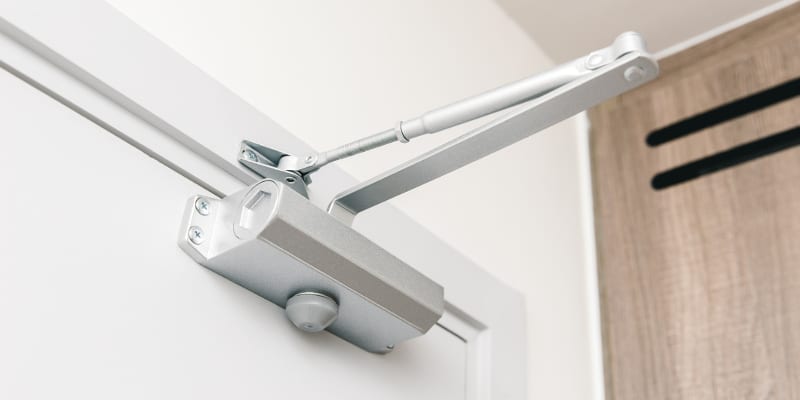 In addition to their role in fire safety, door closers also serve an important role in security purposes, as they ensure that no door is left open for unwanted persons to enter. You'll never have to worry about a door not quite swinging shut behind you as you leave work for the night. Another benefit of door closers is that they close the door at a controlled rate, so you won't have to worry about doors slamming, or the potential injuries that could result from a heavy door swinging shut unexpectedly. With door closers from us at Coastal Contract Hardware, you can eliminate nagging, everyday worries that you may not have even been aware of, and you can rest easier knowing that your business and employees are safe.
We at Coastal Contract Hardware are proud to serve the Myrtle Beach, South Carolina community and want to help you protect your business and staff from fire, intrusion, and injury. If you are in need of new door closers for your facility, give our team a call today.
---
At Coastal Contract Hardware, we offer door closers to businesses in Myrtle Beach, Surfside Beach, Garden City, North Myrtle Beach, Carolina Forest, Little River, Conway, Murrells Inlet, Pawleys Island, and Horry County, South Carolina.